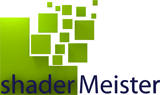 Unique Global Shading System for LightWave 3D
shaderMeister allows you to override the shading of surface on a scene by scene basis. This is accomplished by a shader plugin that needs to be applied to all surfaces that should be overridden by shaderMeister.
When rendering the shader plugin will detect if a shaderMeister global shading network is present and then evaluate it.
The shaderMeister global shading network itself is saved with the scene. A master handler plugin manages it.
Once you have applied the shader to all surfaces in your current scene (which only needs to happen once and is automated by shaderMeister) you can thus override the surfacing on a scene by scene basis.
"ShaderMeister delivers an effective solution to a handling tedious and long winded changes to multiple surfaces.

At last a Simple, swift and very effective way to mass manage surface alterations! Thank you.

Its simplicity of use is its genius!

Finally no more creating multiple objects or surfaces presets for occlusion passes!

Simply the Best, better than all the rest, better than...."
Simon Percy - Director
Darkside Animation, London
www.dsanim.com
Unfortunately due to the nature of the LightWave 3D shading systems, things aren't as simple as they seem to be.
Since shaderMeister is applied as a shader, it has limited access to some of the nodal shading information and can also only override some of the nodal data.
The nodal shading buffers (diffuse buffer, specular buffer, reflection buffer, refraction buffer) as well as the material are, unfortunately, applied after the shaderMeister shader plugin.
Availability and compatibility
shaderMeister is available for both 32- and 64-bit Windows, as well as OSX UB. It is compatible with LightWave3D version 9.2 up to version 11.