smarten up your render pipeline with exrTrader for LightWave3D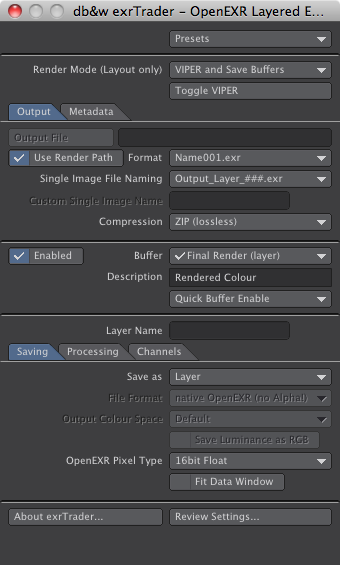 exrTrader is a suite of plugins and provides complete support for OpenEXR in LightWave 3D.
It includes free standard image loaders and savers supporting RGBA as well as an image filter plugin to save arbitrary buffers.
OpenEXR is an HDR image file format featuring:
Support for 16/32bit float and 32-bit integer pixels
Multiple lossless compression schemes
Support by all major compositing packages
Storage of multiple, arbitrary channels in a single file
As always there is a free download that offers you a limited funtionality even without licensing ... for free. :-)
Basic OpenEXR Loader and Saver Plugins
exrTrader includes basic LightWave image loader and saver plugins to deal with OpenEXR images. These allow you to load and save OpenEXR images in any part of LightWave that loads and save images.
These are included in exrTrader for free, and may be used freely without purchasing exrTrader. Just download exrTrader from the downloads section of this website (a user registration is required).
exrTrader OpenEXR Layered Export
This plugin allows you to save all buffers provided by LightWave 3D to a single or multiple OpenEXR files, designed to save render buffers for compositing.
To enjoy the functionality of the OpenEXR Layered Export, just go to our shop and make the small investment of 49 EUR.
Availability and compatibility
exrTrader is available for both Windows and MacOS. It is compatible with LightWave3D 2018.0.
"In order to gain the maximum flexibility out of our renders it's a given that we render out layers and passes - exrTrader not only makes this simplicity itself but also combines it with bringing the CG industry's most versatile HDR image format to LightWave 3D in an incredibly robust implementation - quite simply, exrTrader is an essential part of our 3D and compositing pipeline."
Andrew G. Morgan - CG Pipeline Specialist
Cityscape, London
www.cityscape3d.com